Actor and producer AnnaSophia Robb and entertainment lawyer Trevor Paul's meet-cute feels like one from another time, when finding romance was more reliant on happenstance or fate. It was March 2016, and while reading their respective books at a communal table at what is now called Partner's Coffee in Williamsburg, Brooklyn, they struck up a conversation. "It was The Genealogy of Morals for me—I was in college—and Harry Potter and the Sorcerer's Stone for Trevor," AnnaSophia remembers. "I asked if it was his first time reading Harry Potter, and he replied that he was taking a study break from his—much less exciting—law school case books."
When their small talk ended, they went their separate ways without exchanging numbers. The very next evening, as luck would have it, when AnnaSophia was getting off the Bedford Ave subway, there Trevor was waiting on the corner for his roommate. They made eye contact, and then—just like in the movies—it started to rain. They shuffled into the corner bodega, where Trevor finally asked for AnnaSophia's number. "It was one of those kismet New York moments," she remembers.

In August 2021, having been together for over four years, the couple traveled to Amsterdam to visit friends. "We had plans to travel around after," AnnaSophia says. "Little did I know, Trevor was scheming the whole time."
After arriving, they spent their day exploring Amsterdam. "Trevor was very smitten and kept humming our favorite song, 'Everywhere' by Fleetwood Mac—I still didn't catch on to what was about to happen though!" AnnaSophia admits. "One evening, we rented a canal boat to watch the sunset. Apparently, they let just about anyone rent boats and drive them around the canals of Amsterdam—no boat license or anything required."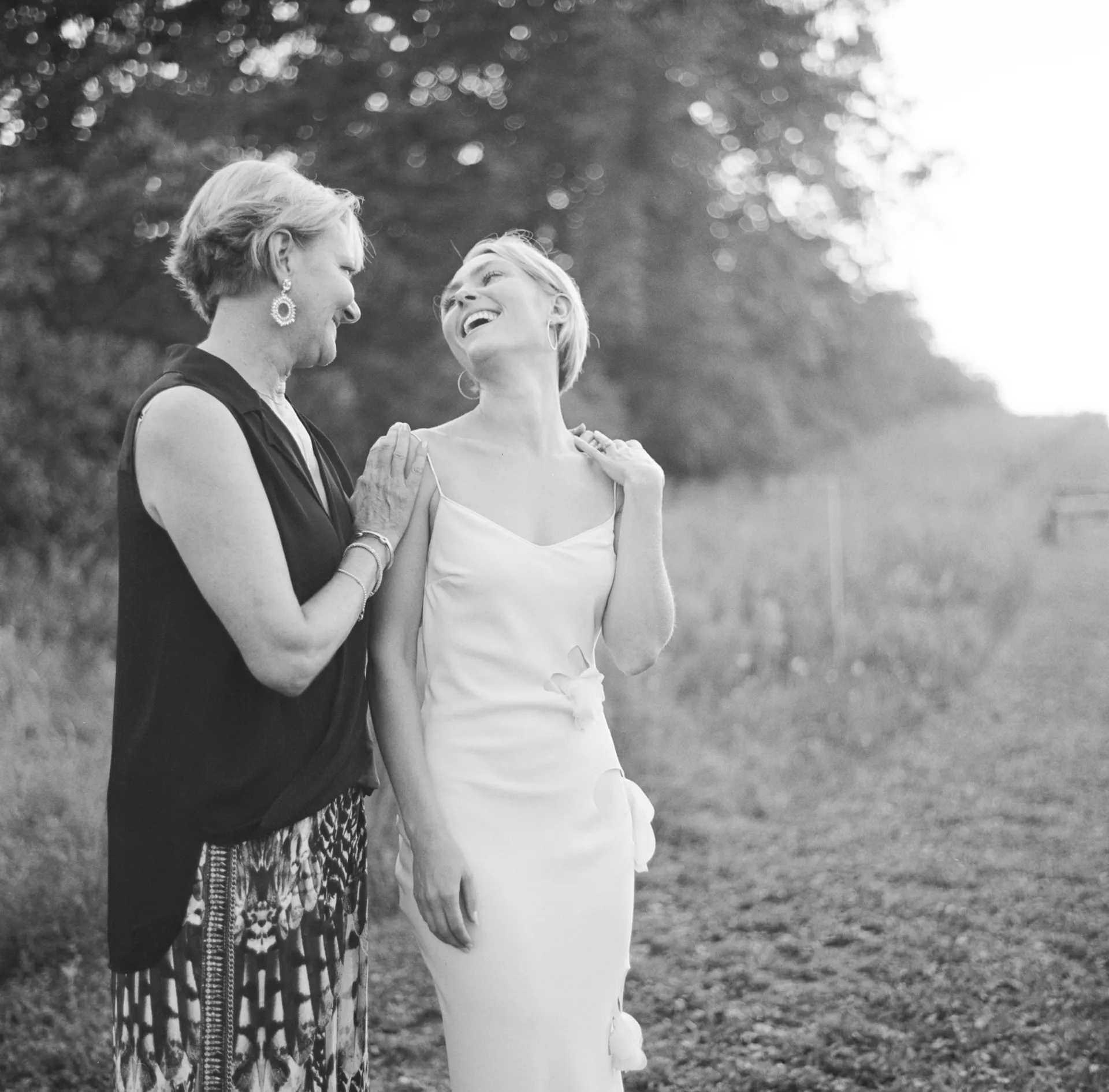 Eventually, they managed to park the boat just as the sun was setting over the canals. "Then, all of a sudden, Trevor balances on one knee and tells me he wants to be with me 'everywhere'—hence his Fleetwood humming all day—and popped the question. I was gobsmacked, utterly surprised, then I cried and started screaming to everyone that we'd just gotten engaged."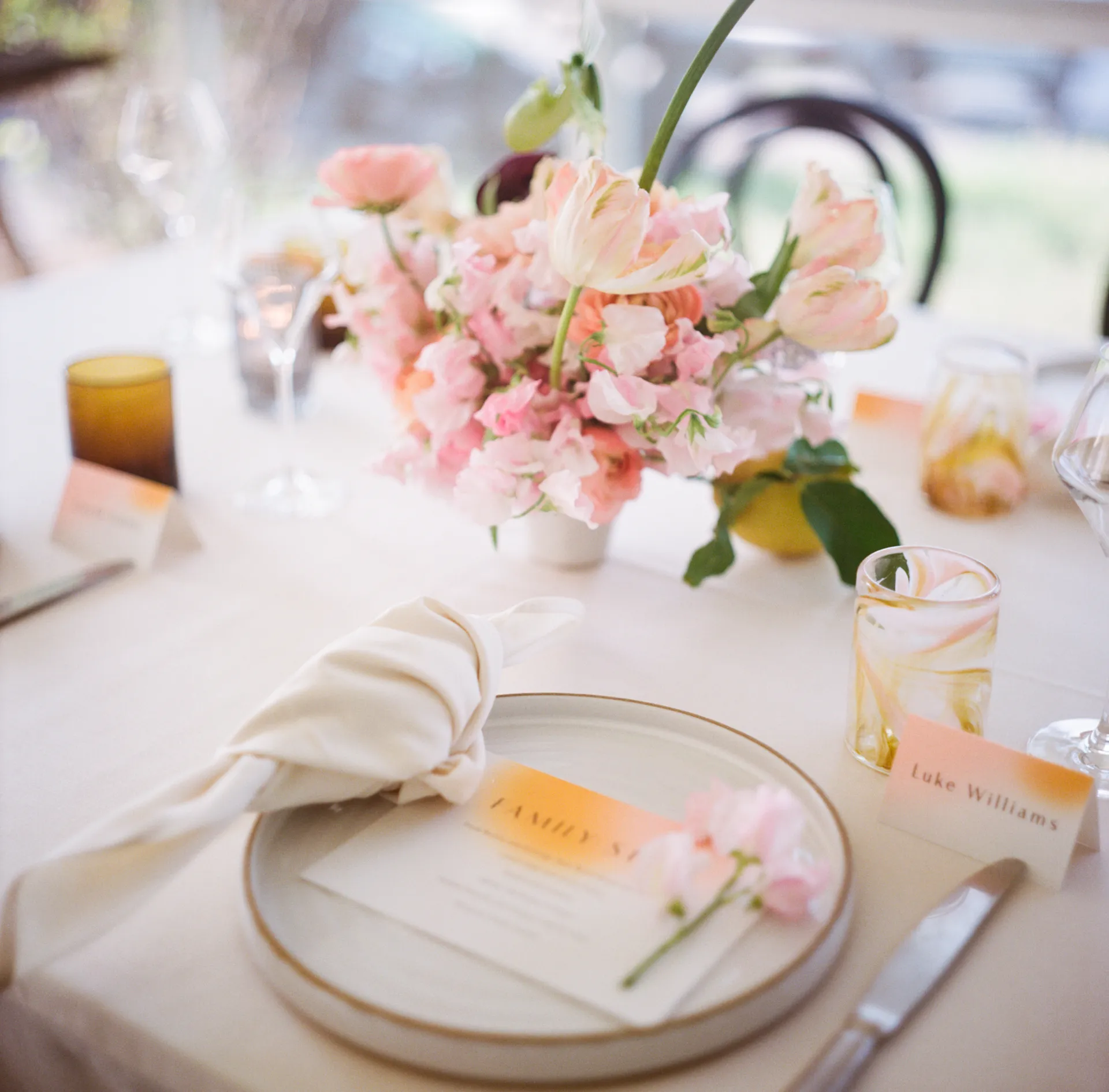 They Facetimed their families and walked around the streets of Amsterdam with a bottle of champagne. In all the celebrations, they lost track of time and managed to miss their dinner reservation. "Every restaurant nearby was closed—so we ended up ordering Happy Meals," AnnaSophia says. "It turns out Dutch McDonald's is pretty delicious."
WATCH
On the Latest Episode of Good Morning Vogue, A New Allure: How Virginie Viard Is Making Chanel Her Own
Once the shock passed, AnnaSophia and Trevor began searching far and wide for a wedding location. Sonoma, San Juan Islands, Mexico, Colorado, and Europe were all on the table. "We were open to anything," AnnaSophia says. "But then, last October, we were in the Berkshires with my maid of honor, Coco, and Trevor and I looked out at the blooming hydrangeas with that sweet smell of autumn and the rolling auburn tinged hills and thought, 'Let's marry upstate!' It's easy enough for our city friends, but still feels like a destination wedding, and we met in New York—it's been our home for a decade. It also reminded Trevor and I of our respective hometowns: Trevor is from a small town in the Midwest, and Upstate NY has similar rolling green pastures to those back in Southern Illinois, and I'm from Colorado, so seeing the Catskills in the distance feels like a gentle echo of the Rockies."
In the wee hours that night, while scouring the internet for possible venues, Trevor found Inness, a hotel that had just opened a few months prior. The next weekend, AnnaSophia and Trevor drove to the estate. "We fell in love with the property and had that buzzy feeling in our bellies that gave us the quiet assurance this was 'the place,'" AnnaSophia says. "During this season of celebration, Trevor and I recognized that choosing each other at this point in our lives, with freedom and economic security, is a gift and a privilege. Twelve million girls are married every year, some as young as 8 years old, so we wanted to partner with Vow for Girls to raise awareness and funds to stop child marriage. To that end, we included Vow for Girls on our registry and in our welcome note. 100% of funds raised go directly to community-led efforts to end child marriage. Efforts include advancing girls' rights by providing education, job training, and vital life skills."
On their wedding weekend in early September, AnnaSophia and Trevor had three days of sunshine and married at Inness under a Harvest Moon. "It was on the cusp of fall but with the warmth of summer still hanging in the air," AnnaSophia says. "New York was green and in full bloom."
The couple's florist Molly Ford introduced them to wedding planner extraordinaire, Rachel Urban of Loli Events. "She was terrific at guiding Trevor and I through the process," AnnaSophia says. "All the logistics, all those headache-inducing parts of a wedding that are far less glamorous than cake, dresses, flowers, and love. The real work!"
Inness has over 30 Scandinavian-style cabins on the property, as well as a large farmhouse that serves as a hotel and communal living room. Family and friends stayed in all the cabins and booked out the farmhouse, creating an experience that, at its most raucous, felt like adult summer camp and, at its most refined, felt like a retreat in the Catskills.
To kick the weekend off, on Friday evening, the couple hosted an intimate rehearsal dinner in the screened-in porch of the farmhouse with their immediate family and bridal party. "I have always loved vintage and knew I wanted to incorporate something special for the wedding weekend," AnnaSophia says of how she went about choosing her Friday night look. "I'd been searching for a while, and one day, I messaged one of my favorite stores, Aralda Vintage, and asked if they had any tiny white dresses. They messaged right back with a photo of the perfect dress: A 2001 white John Galliano cut-out slip dress. I wanted to wear something a little more slinky and playful for the rehearsal dinner and welcome party to contrast with the luxurious romanticism of my wedding dress."
After the rehearsal dinner, the party opened to welcome guests. "The only way to describe the feeling of seeing everyone from different parts of your life arrive one after the other is: fireworks," AnnaSophia says. "My mouth was wide open with wonder the whole time, as guest after guest appeared outside the farmhouse."
Friend and chef Sarah Glover cooked over an open fire for the event. "She's always down for a good time and brought her team, this adorable group of young chefs to cook with her," AnnaSophia says. "Sarah has this way with food, she appreciates and sources the most beautiful local ingredients." As folks arrived, everyone gathered around Sarah's fires to listen to speeches and toasts, enjoy drinks from St. Germain, and dig into the food. The night went on with dancing, ice cream from Jeni's Ice Cream, some competitive rounds of billiards in the farmhouse, lots of chatting, and eventually, a spot of late-night swimming.
On the morning of the wedding, AnnaSophia got ready in one room with her bridesmaids and cousins—everyone was bustling about, sipping champagne, and dancing away. "I was able to sit and observe, and just breathe as Cristin Armstrong and Carolina Gonzalez worked their magic," she remembers.
Even though AnnaSophia regularly walks the red carpet, choosing a wedding dress was a completely new and different experience for her. "Usually, I'm getting ready for an event or wearing a costume for a character, so I'm constantly thinking about what the dress is saying, and what the narrative of the day or scene is," she explains. Because of this, it took AnnaSophia a while to figure out exactly which direction she wanted to go.
"I remember the first time I went to Danielle's studio, my jaw dropped," the bride says. "Her dresses are unlike anything I had seen: modern and whimsical, yet classic and timeless—a distinct voice in the bridal world."
Once she landed on her dress, she tried it on so many times during fittings in the lead-up to the wedding, that when the day arrived, it felt like putting on a precious old friend. "I'll be geeky here for a second for the Lord of the Rings fans out there," Anna Sophia says. "It reminded me of Mithril–this precious, lightweight, armor that made me feel invincible. The gauzy top layers flowed luxuriously whenever I moved, but because of the structure of the deconstructed corset, I was held in place. The craftsmanship was exquisite. It was a balance of Grace Kelly and something new, something entirely Danielle."
AnnaSophia chose to accessorize the look with her grandmother's diamond studs. "She passed at the very beginning of Covid, and I knew it would mean the most to have a piece of her with me on our special day," she says. Finally, for shoes, her stylist Thomas Kikis reached out to Roger Vivier. "Gherardo and his team were sweethearts, and they rushed me custom platforms and pumps in a size 34.5," AnnaSophia says. "The pumps were an homage to Grace Kelly and added an extra sparkle."
At the start of the ceremony, the bride's friends sang Fleetwood Mac's "Everywhere" as an homage to the couple's engagement story. "I didn't want to miss their performance so our planner set up a speaker behind the barn so I could listen," AnnaSophia says. "I was feeling really grounded and was more concerned about pumping up Alice, our flower girl, but then as soon as I heard my friends' voices, I broke down, and my dad and I just got to have a quiet moment together, before walking down."
The ceremony circle overlooked the Catskills with wildflowers dotting the background. The steps down to the ceremony circle were lined with oak branches, so that when guests and the bridal party walked down, it felt like they were entering a new magical space. "It was like this entrance into a different realm," AnnaSophia says. "At the end of the tunnel were all the people I love most in my life and right in the very center, Trevor. It felt so cinematic and larger than life."
At the beginning of the service, the couple's pastor Michael Rudzena suggested they "take it all in" and look out at the crowd of faces. Then came the vows, which both the bride and groom wrote themselves. "It's the one time we really have the chance to express this holy, solemn vow in the presence of our community," AnnaSophia says. "Trevor's vows were superb. I mean, everyone was crying, including me."
When it came to reciting her own vows, however, AnnaSophia had a touch of nerves. "That said, when I was reading the vows I had written, I felt like I was in the process of declaring the best decision of my life," she says. "It was exciting and profoundly fulfilling to share those words with him, and everyone, straight from my heart."
Post-ceremony, the newlyweds signed their marriage license on a table displaying wedding photos of their grandparents to honor their lives and love, and then, family photos followed. "It was like herding cats to get everyone together, but it was really important to us to have everyone in one shot, to capture that moment in time," AnnaSophia says. After photos, everyone enjoyed a cocktail party on the lawn and then headed into the barn, where the reception began with the couple's first dance to Chet Baker's "Time After Time" as performed by the East Coast Band.
"A few months before the wedding, my dad announced: 'I don't want to do one of those corny dances [where] after 20 seconds everyone feels uncomfortable,' so he suggested we perform the Napoleon Dynamite dance to 'Canned Heat' instead, which absolutely tickled me," AnnaSophia says. "We practiced via Zoom and the day before the wedding—it was goofy and lively and a moment I'll never forget."
Just a few hours later, the reception was nearly over. "The last dance was very likely one of my favorite memories ever," the bride says. "The band was playing 'I Get By With A Little Help From My Friends' and a spontaneous kumbaya moment occurred on the dance floor where everyone put their arms around each other and started singing and crying in this love circle. My friend Analise ran to grab Trevor, and we were pushed into the middle of the circle and danced around. I got to see all these faces, surrounding Trevor and I, literally lifting up our love."
Immediately after the newlyweds exited—accompanied by the obligatory sparklers—they danced and sang their way down the hill on the property. Once back at the farmhouse, the revelry continued when friends surprised the couple with DJ Key. "She is a queen in her own right and people got down," AnnaSophia says. "My cousin Lauren and her husband always bring wigs to weddings, which I love. We ordered glow sticks and disco lights and basically had a massive dance party." Forty pizzas were ordered so that when guests went into the kitchen it felt like a house party. "Everyone at some point in the evening ended up in there with fistfuls of pizza," AnnaSophia jokes.
The next morning, a farewell brunch was held poolside, and there, people said their goodbyes. "I was still in blissful shock at how perfectly everything rolled and was totally in awe of all the new friendships our loved ones forged with each other that weekend," AnnaSophia says. "It was fun to see my grandpa talking with the director of my last film, and my acting coach hanging out with my nana. They were all perfect crystalized vignettes that may never happen again in one place, but provided this joyful bubble in time that we'll carry with us always."