An 11 p.m. dinner reservation with friends at New York's Mission Chinese Food first brought Cherish Anthony Iocovozzi and Silver Leon Cousler at a table together. Cherish, who goes by Cherry, had been a Brooklyn resident for nearly a decade, and Silver was living in Asheville. Six months later—on June 9, 2019, to be exact—they were hiking together in North Carolina on their first date.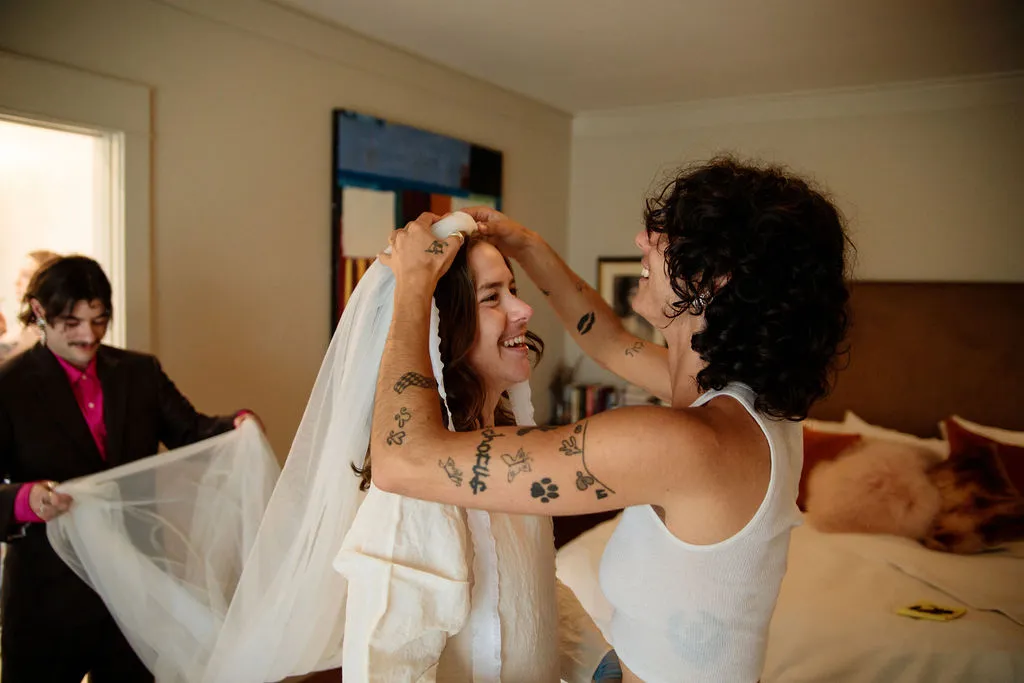 "We went to Max Patch that day, an iconic hike outside of Asheville with the most stunning 360 mountain views," Cherry remembers of falling in love with both Silver and the beauty surrounding them as they "feasted on sardines, dolma, cheese, and crackers." The next day, the pair took a road trip to Dolly Parton's theme park in Tennessee, better known, of course, as Dollywood. "Silver and Dolly share a birthday," says Cherry. "We were glued together looking at Dolly's collection of rhinestone costumes and size 5.5 marabou mules." A second date on a rollercoaster felt especially next-level. "We took everything we could to the highest heights," says Silver. "And Cherry convinced me to ride front row for the very first time."

Cherry moved to Asheville the following January, and soon they were on another monumental hike. "We went to a waterfall called Rainbow Falls on the first gorgeous Sunday after weekends of winter rain," says Silver of the "sweet feeling in the air" on March 7, 2021. "I had no plan to propose to Cherry that day, but I so happened to have the ring on me." Gazing at the waterfall, it all became clear. "I knew it was the right time," says Silver, who told their friend Devyn Vasques to document the moment as the couple inched toward the misty rocks. "There was every precaution in the world to tell us not to get closer, and before it got too dangerous, I asked, 'Where is Devy?'" As Cherry glanced away, Silver seized the opportunity. "I slammed my knee into the soaking wet mud and exposed the ring," they remember. "Cherry turned around and covered his mouth and started crying so hard. It was one of the sweetest moments of my life, it had me speechless. I think Cherry was waiting for me to say something and I finally asked, 'Will you marry me?' and we kissed with water spraying on our faces and backs.
"